OUR FIRM
An Arkansas Workers' Compensation Law Firm
For a quarter century, Neal Hart and Hart Law have been making an impact in Workers' Compensation Law in the state of Arkansas. So, it would be fair to say that we've developed a heart and a knack for helping injured workers get the benefits they deserve to get better – and get back to their lives.
For some other firms in the state, Workers' Compensation Law is at the bottom of a long list of other more profitable law practices. Not at Hart Law. Workers' Compensation Law is our primary concern. It's what we do. We help injured workers successfully navigate their Workers' Compensation claims so that they can get back on their feet, back to work and back to their lives.
An Arkansas Workers' Compensation Attorney
As a young lawyer, Neal Hart learned the ropes of Workers' Comp by representing insurance companies in the Workers' Compensation claims process. This had a tremendous impact on Neal as he sat in meeting after meeting, hearing after hearing, witnessing insurance companies treat people like a number. Because of this, Neal knows the tactics of insurance companies and how they look at injury claims. Experience that he now uses to fight for the rights of injured workers.
In fact, for 25 years, Neal has been helping people just like you get the help they need to maximize their Workers' Compensation claim. Unfortunately, the process can be very complicated. And when it's just you versus the insurance company, you may be out of luck. That's where Hart Law steps in. We've got your back!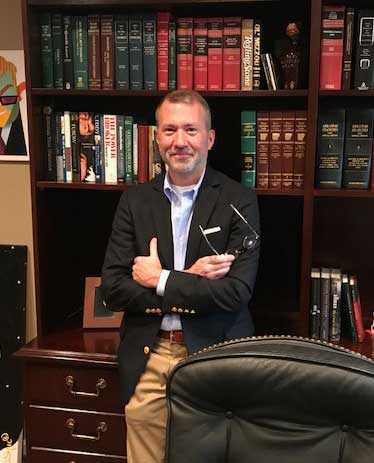 NEAL HART
ATTORNEY
Neal Hart has been an Arkansas trial lawyer since 1994. He graduated from the University of Missouri at Columbia, cum laude, in 1991, with degrees in Political Science and History. He attended law school at the University of Arkansas at Little Rock, graduating from the same in 1993. Mr. Hart is a member of the Phi Beta Kappa Honor Society and the Honor Society of Phi Kappa Phi. While in law school, he also served as Associate Editor of the UALR Law Journal.
Mr. Hart practices primarily in the field of Workers' Compensation Law. He is licensed to practice in all Arkansas State and Federal Courts; in the Eighth Circuit Court of Appeals; and in the United States Supreme Court. He is a frequent speaker in the area of Workers' Compensation Law; he has entertained and answered Workers' Compensation Law questions on local news television; he is past Chairperson of the Arkansas Bar Association Workers' Compensation Section; and he has co-authored and revised the most recent version of the Arkansas Workers' Compensation Law Desk Book.
TERRY D. DUGGER
ATTORNEY OF COUNSEL
Terry Dugger has been an Arkansas trial lawyer since 1995. He completed his undergraduate studies at the University of Texas and attended law school at The University of Tulsa, graduating from the same in 1994. 
A veteran of more than 80 trials, Mr. Dugger is a Little Rock trial attorney with a passion for helping ordinary people get justice, utilizing his in-depth legal and insurance knowledge and years of experience making a difference in the lives of his clients. Having spent his early years as an attorney representing insurance companies he now only represents injured persons and their families. Mr. Dugger is relentless when it comes to protecting his clients' interests and obtaining fair settlements. His substantial trial experience and case preparation serve to maximize client recoveries, often through favorable settlements outside the courtroom.
REBECCA D. SCOTT
SPECIAL PROGRAMS
Rebecca Scott is a 20-year veteran of the Workers' Compensation arena and co-founder of Hart Law.  She graduated from the University of Arkansas at Little Rock with a degree in Health Science and Kinesiology, specializing in the the fields of work injuries and sports medicine, including an internship with well-known orthopedic surgeons.
A seasoned and talented Workers' Compensation claims specialist, Ms. Scott has a big heart for injured workers and a relentless passion for getting claimants the help they need to recover from a work injury and get the compensation they rightfully deserve.  From start to finish, she oversees each client's Workers' Compensation claim with the utmost professionalism and care, answering your questions, addressing your concerns, and keeping the claims process running as efficiently as possible.  Ms. Scott has a long history of helping to successfully negotiate settlements of complex Workers' Compensation cases.  
ERICA LEMAY
ADMINISTRATOR
Erica LeMay is the new addition to the Hart Law team. Bringing more than 23 years of administrative experience to the firm, she possesses unparalled attention to detail and an unwavering commitment to excellence. Ms. LeMay graduated from Henderson State University with a degree in Psychology.
Ms. LeMays father and grandfather were plumbers, and she was taught at an early age to work hard, respect others, and never give up. Outgoing, approachable, and compassionate, she understands the multitude of issues injured working folks face, and she works tirelessly to protect their interests during the Workers Compensation claims process. When you call and Ms. LeMay answers the telephone, you'll know immediately that you're in good hands.
In her spare time, Ms. LeMay enjoys doing volunteer work at local hospitals, reading, spending time with her son, and enjoying all of the beauty the Natural State has to offer. She also holds a black belt in Taekwondo.